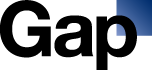 This week, Gap quietly began rolling out a new logo: an odd blend of Helvetica typeface and a blue gradient box. Almost as quickly as the logo appeared on Gap.com, critics began slamming the new logo. The Consumerist comments, "the marketing geniuses at The Gap seem to have fiddled around with Photoshop for a few minutes and designed a new company logo that's as bland and uninteresting as jeans and a black t-shirt. It's not ugly, but it's not memorable or creative, either. What were they thinking?" A fan on Gap's Facebook page comments: "New logo lacks imagination-it's as if I designed it!"
Gap surely realized there would be a backlash amongst brand loyalists. Let's face it — getting rid of a 20 year old logo isn't an easy thing to do. But is the logo ugly on purpose? Was it that Gap knew the new logo was so boring and run-of-the-mill that critics would immediately start talking about it and spur a renewed interest in the suffering brand?
Let's face it, Gap has been doing some interesting promotions lately. On Groupon.com, Gap was the first retailer to launch a national promotion — one that resulted in the sale of 441,000 groupons and $11 million dollars in revenue. Then, last November, Gap turned a Vancouver store upside down — literally — overnight to promote its new loyalty program.
Most of the criticism of the new Gap logo has taken place on Twitter and Facebook — neither of which have been updated with the new logo. On Facebook, Gap responded to its more than 690,000 fans with a post stating: "Thanks for everyone's input on the new logo! We've had the same logo for 20+ years, and this is just one of the things we're changing. We know this logo created a lot of buzz and we're thrilled to see passionate debates unfolding! So much so we're asking you to share your designs. We love our version, but we'd like to see other ideas. Stay tuned for details in the next few days on this crowd sourcing project."
Despite the countless articles, Tweets and Facebook posts about the logo, my gut says this isn't Gap's the final resting place.